Featured Activities Page Two
New Success for Laguna Niguel Woman's Club 2020 Art Contest Winner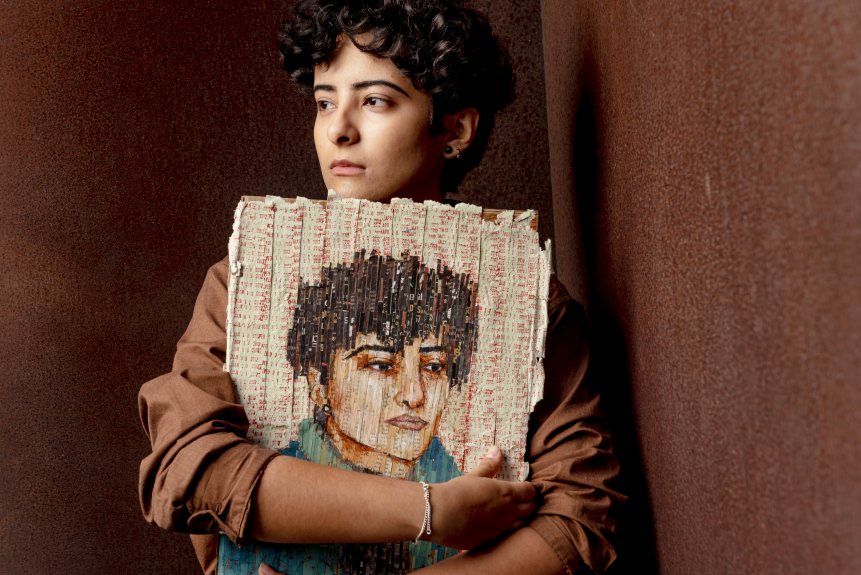 Rey Mar Negrete of Laguna Niguel, a recent senior from Aliso Niguel High School,
is the 2020 Handcrafted Visual Arts Artist of the Year.
(Photo by Leonard Ortiz, Orange County Register/SCNG)
Edited from article written by
GREG MELLEN | Orange County Register PUBLISHED: June 28, 2020 at 7:53 a.m.
Having grown up in and around poverty, with parents who had to vend at the Orange Coast College swap meet,
Rey Mar Negrete knows about making do and finding beauty where you can. As the street markets are places where trash can be treasure,
beauty lost and found, there is sense in Negrete finding voice and expression in mixed media.
For his presentations for the 2020 Orange County Artist of the Year contest, Mar Negrete employed a swap meet of materials:
homemade paper, cardboard, sandpaper, collage, nylon and sewing thread, adhesive tape, stamps, chalk and hot wax.
And that's not including the acrylic, oil and spray paints, pastels and pens and ink.
"I love how materials interact," said the recent senior from Aliso Niguel High, who revels in finding ways to use found items in his expression.
A self-portrait called "Return to Sender," was on handmade paper and pages from novels and newspapers, with travel-date stamps,
to enlist a sense of intransigence, a little bit shredded, searching for "places they may never find."
About his use of varied material Mar Negrete said, "I enjoy experimenting with many different mediums,
textures and layers in order to convey different moods, experiences and events."
As for his future goals, the artist, who is also interested in filmmaking, said one day he'd like to combine his interests in a large-scale installation.